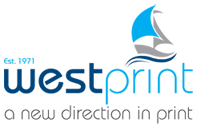 As of November 2017, Brightsea Print Group acquired West Print's customer base and we are now looking after new and existing clients.
For further details please contact Andrew Jackson or Angela Woodgate on 01392 360616 or email westprint@brightsea.co.uk
We will be offering everything that West Print did and lots more. Please explore this website to get to know us a little better.
We look forward to meeting you.
Mark Commins
Managing Director