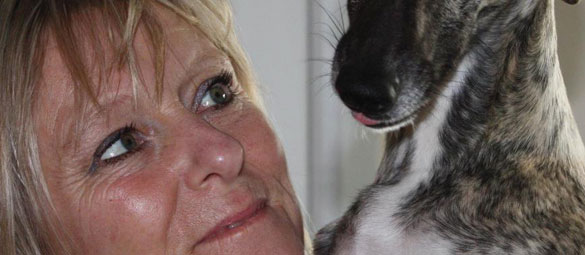 Yvonne hull
Print Finisher
How long have you been working
at Brightsea?
22 years
What does your job role entail?
I've seen a lot of changes over the years and I have been trained to set up folders and the stitcher. My job these days is mainly bench work. Making folders, drilling, shrink wrapping and generally helping to make the bindery run smoothly and get the jobs out on time.
What is the best part of your job?
The variation, I love it!
Do you have any hobbies or pastimes?
Together with my husband we breed and show the 'Palmik Whippets' with huge success. We are known for our honesty and integrity and are admired worldwide. I don't have time for anything else.
What three things couldn't you live without?
My husband, dogs and mascara.
If you could visit any place in the world, where would you go? 
USA
What's your favourite food? 
I'm a real foodie. I love spaghetti dishes and Chinese.
If you could only watch one film again in your life what would it be and why?
'Lost Boys' (1987), absolutely hilarious!
Which celebrity would you most
like to meet?
At the moment it would have to be Glebe from 'Strictly Come Dancing', for obvious reasons!
What is your greatest fear or phobia?
Heights
What is your favourite smell?
Puppy breath
Life is… ? 
A merry-go-round.