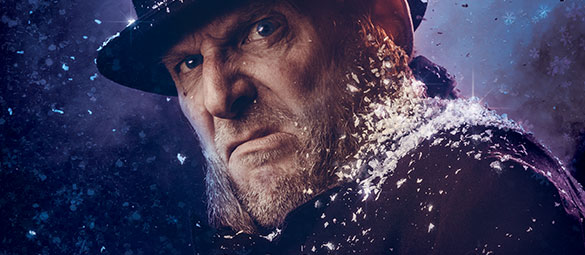 We were delighted to work with Exeter Nothcott Theatre on the marketing material for 'A Christmas Carol', an Exeter Northcott Theatre production in partnership with Creative Cow.
Here at Brightsea Creative, we're more than just art workers. Our talented team of designers are experts in Photoshop, and can work miracles when it comes to photo retouching. From turning grey skies blue, to cleaning up brickwork, even changing eye colours, we've done it all when it comes to creating the perfect image. We're always careful to ensure that
no one will ever know the photo has
been retouched!
The original photographs for 'A Christmas Carol' were stunning, so we had a very good starting point, but they didn't quite capture the magic and sparkle of Christmas. We set to work with a toolbox full of Photoshop brushes and techniques to create the perfect image to capture the magical wintery feel of Christmas.
The difference between the original and the final artwork are plain to see. We adjusted the background to create a more wintery feel, using clipping paths and adjustments to the hues. We also extended the image slightly, cropping in tighter to Scrooge to centre him in the image, before adding a few sparkles and just enough snowflakes.
We think the finished product speaks for itself. If you have a project for Brightsea Creative give Johno a call on 01392 360616, or email Mike to arrange a chat. Don't forget to head down to Exeter Northcott Theatre to catch A Christmas Carol this winter, from Friday 4 December 2015 – Sunday 3 January 2016.
www.exeternorthcott.co.uk